UIG DETECTORS is a world leader in manufacturing and developing underground search and detection devices.
Since the establishment of UIG DETECTORS in 1990, it has been a global leader in research, development, innovation, and design, until today it has become the largest manufacturer and supplier of metals, gemstones, diamonds, and underground water detectors.
Since that year, UIG DETECTORS began writing a success story, as it was established with the aim of developing and innovating special technologies in the field of manufacturing gold and metal detectors until it was ranked in the top ten list in the world for the manufacture of these devices.
During the past three decades, the company has introduced the most innovative devices, technically and scientifically, compared to its competitors around the world, which has led to raising the level of the detection devices industry as never before.
The well-established UIG DETECTORS company provides all researchers and prospectors with the latest technology and scientific innovations in the field of prospecting for underground wealth on a plate of gold.
All our devices operate with multiple systems for detection and search underground therefore, we have classified them according to the type of target to be searched for to facilitate the process of choosing the appropriate device:
Search and detection devices for gold buried underground
Detectors for gold nuggets and underground gold veins.
Devices for detecting archaeological treasures buried underground.
Underground precious metal detectors.
Underground antiquities, and ancient tombs detectors.
Underground diamonds and gemstone detectors.
Devices equipped with the latest advanced technology to detect gold, precious metals, buried treasures, ancient relics, voids, precious stones, and diamonds underground.
It reaches depths of up to 120 meters in the ground and a front range of 3000 meters.
Devices supported by advanced systems to detect all underground water sources from groundwater springs and artesian wells.
They reach depths of up to 1,500 meters in the ground and a front range of 3,000 meters, including long-range locators
Imaging devices that operate according to the 3D imaging system
Devices that operate according to pulse induction detection technology
(PULSE INDUCTION)
Devices that operate according to electromagnetic research technology VLF.
Devices that search for ionic fields
(Ionic fields detection search system)
Magnetometer detection search system
Devices that work according to the search system (EMF) technology
One of the best German industries-the European CE certificate according to international standards in addition to the international ISO 9001 certificate in accordance with international specifications and standards.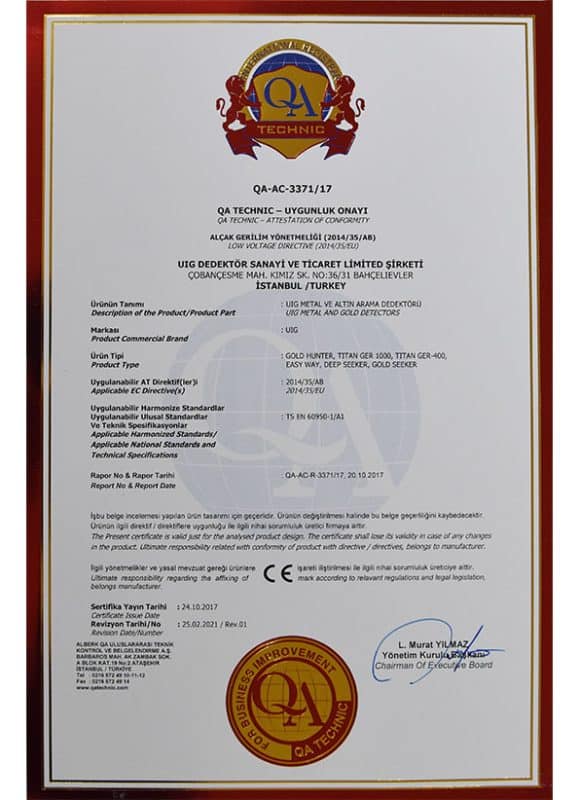 With maintenance, distribution and customer service operations in Middle East, Europe and the United States, you are always safe in the knowledge that customer care is close to your hand.
GER Detect worldwide network of Authorized Dealers are able to give you the most date knowledge in products and techniques that will help you to improve your success rate in the field.
GER Detect CT products continue to set new standards in the world of metal detecting for both performance and innovation.
In line with the high standards GER Detect is an ISO 9001 Quality Endorsed Company. ISO 9001 is a worldwide quality standard certification that ensures continuous improvement is maintained in order to provide the highest level of product quality for our customers.
We believe in a strong customer focus and working together to find innovative solutions that add value to our products.
It is this commitment to the development of new technologies, along with excellence in customer service that will give you a big advantage when you are out detecting, no matter what the ground or environmental conditions.
With GER Detect products you will have the opportunity to find more good targets more often UIG DETECTORS COMPANY In Istanbul, Turkey maintenance, sales Service Provider.
Since December 2012, the UIG DETECTORS COMPANY distribution service Istanbul, Turkey has been responsible for the majority of GER Detect worldwide metal detector production. Ger. detect of its association with it is outsource partner in Turkey.
Genuine GER Detect metal detectors are exclusive agent by GER Detect in Germany and by Istanbul, Turkey in the Germany facility.